2021年9月3日上午,国际学院举行2021年秋季学期非学历留学生线上开班典礼。副院长杨丹宇、汉语教研室主任郝丽霞等教师,以及来自美国、韩国、澳大利亚等11个国家的留学生们一同出席。开班典礼由李清燕老师主持。
On the morning of September 3, 2021, the International College held an online opening ceremony for non-academic international students in the autumn semester of 2021. Danyu Yang, vice president of international college, Lisa Hao, the director of the Chinese teaching and Research Office, and other teachers, along with other foreign students from 11 countries such as the United States, South Korea and Australia, attended the ceremony. The opening ceremony was presided over by teacher Qingyan Li.
杨丹宇在致辞中代表学院全体师生,热烈欢迎留学生们加入东莞理工学院国际学院大家庭。希望大家珍惜机会,秉承"学而知不足"的校训,虚心向学、不断进步,通过学习中国语言,结交中国朋友,了解中国文化,增进文化交流,努力推进共建人类命运共同体,共同建设更加和谐美好的世界。
In the opening ceremony, Vice Dean Danyu Yang, on behalf of all the teachers and students of the college, expressed her warm welcome to all of the foreign students to join the family of International college. She also put forward her suggestions and expectations to the new students as cherishing the opportunity and adhering to the motto of the university "the more you get to learn, the more you realize your limitations." She also wishes students to learn with a humble mind, and make continuous progress as well as making new Chinese friends and understanding the Chinese culture more during this year of learning. Meanwhile, Ms Yang pointed out that all the teachers and students should strive to build a community with a shared future for mankind and jointly build a more harmonious and beautiful world.
李清燕介绍了新学期课程安排及相关管理规定。
After the Dean's welcoming speech, Teacher Li Qingyan introduced the curriculum arrangement and relevant management regulations for the new semester.
在师生互动交流环节中,留学生们均表达了对疫情时期能够在东莞理工学院学习的感恩、与中国老师和各国同学线上相聚的喜悦,以及对崭新学习生活的憧憬。跨国有时差,相知无距离,典礼现场气氛热烈,欢声笑语不断。
In the interactive communication between teachers and students, the foreign students expressed their gratitude for learning in Dongguan University of technology during the epidemic period, the joy of online gathering with Chinese teachers and students from various countries, and their vision for a new learning life. There are time differences across countries, and there is no distance between acquaintances. The atmosphere at the ceremony was warm and full of laughter.
师生们以一张特别的在线合影结束了开班典礼。接下来的几个月,留学生们将尽享汉语言文字之美、感悟中华文化神蕴。
The opening ceremony was ended perfectly with a special online group photo. In the next few months, foreign students will enjoy the beauty of Chinese language and characters and understand the essence of Chinese culture.
受疫情影响,来华留学生工作碰到前所未有的困难。国际学院上下努力,积极拓展招生渠道,不断提升教学水平和课程质量,大力提高管理服务,极大保证了来华留学工作的顺利开展,为学校国际化战略的推进实施作出应有贡献。
Being affected by the epidemic, the work of foreign students in China has encountered unprecedented difficulties. The International College has made great efforts to actively expand the enrollment channels, continuously improve the teaching level and curriculum quality, and vigorously improve the management service, which greatly ensures the smooth development of studying in China and make contributions to the promotion and implementation of the University's strategy of internalization.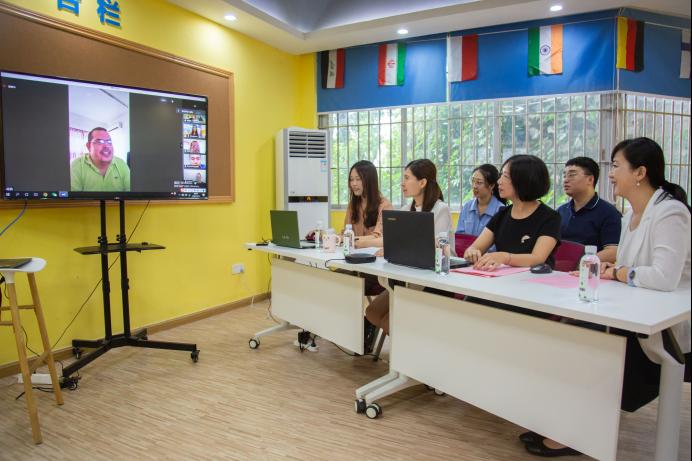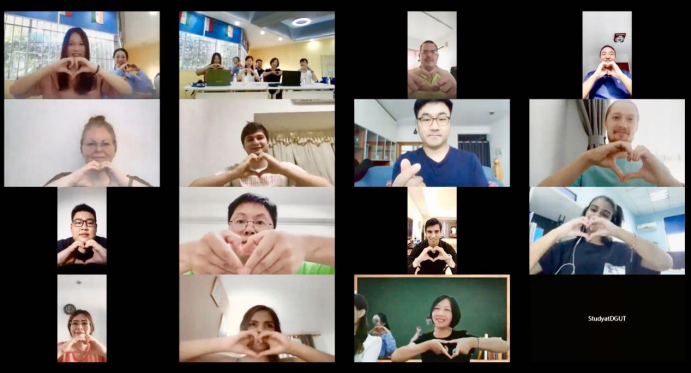 图片来源:东莞理工学院学生媒体中心
撰稿:孙莉明 一审:唐婉清 二审:杨丹宇 三审:王际辉